We are thrilled to announce the 9th season of our esteemed initiative, "Direct 2 Crowd," where we bring you the exquisite Banarasi silk saree. What sets this project apart is our commitment to utilizing natural dyes, making it the only avenue to acquire a truly authentic and environmentally friendly Banarasi silk saree. We invite you to peruse the project brochure for a comprehensive understanding of the undertaking, including a detailed breakdown of costs.
To participate in this extraordinary venture, kindly review the brochure attentively and complete the registration form. Your involvement not only grants you the opportunity to own a magnificent piece of artistry but also supports our mission of promoting sustainable practices in the handloom industry. We look forward to your participation in this remarkable project and the creation of an exquisite Banarasi silk saree together.
(Registration Closed)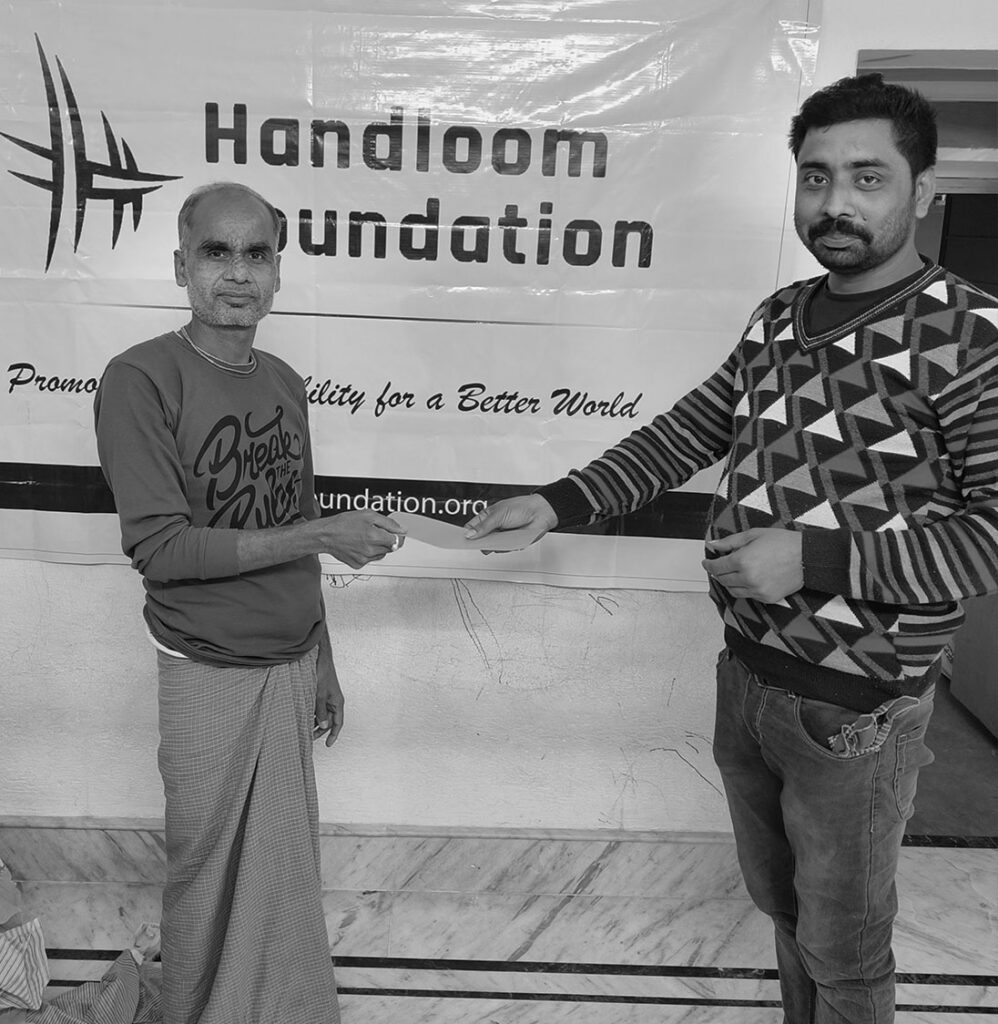 During the initial lockdown of the COVID-19 pandemic in India, we launched a special initiative called "Direct 2 Crowd." This unique project serves as a bridge between consumers and weavers by facilitating crowd-funded handloom production projects.
As we are aware, individual weavers often lack the necessary funds to create authentic handloom products and offer them directly to customers. In our initiative, we gather a community of craft enthusiasts who contribute through pre-orders, providing the necessary financing for the project.
Through this initiative, we ensure that weaver families receive their remuneration promptly upon the completion of each project. This payment allows them to choose their path, whether it involves embarking on an independent journey to develop their own products or addressing medical and other family-related needs.
If you would like to explore the details of the projects we have successfully accomplished, please continue scrolling down. For those seeking genuine handcrafted products made with pure raw materials, we encourage you to stay tuned. We provide full transparency by openly sharing the cost sheet, allowing you to understand the exact amount you are paying and the reasons behind it.
Previous Seasons of Crowd Funded Project
Revisiting Muslin
Season 1
8 Artisan Families got benefited
Revisiting Muslin
Season 2
6 Artisan Families got benefited
Revisiting Muslin
Season 3
7 Artisan Families got benefited
4 Artisan Families got benefited
6 Artisan Families got benefited
4 Artisan Families got benefitted
Keri Kinaar Chanderi
REVIVAL
4 Artisan Families got benefited
2 Artisan Families got benefited
4 Artisan Families got benefited